Name:
Gender:
Personality:
Powers:
Bio:

Source:
Timeframe:
_________________
"
Vive la France!
"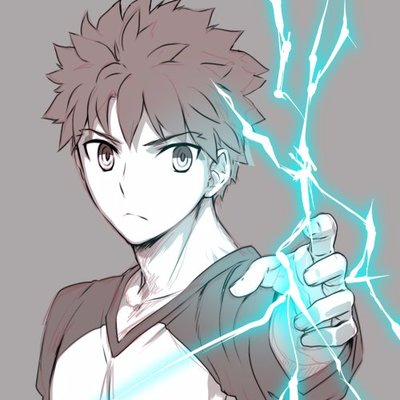 Name: Shirou Emiya
Gender: Male
Personality: Upon first impression, Shirou seems like an everyday young man. Kind, caring and responsible he goes about his days with a warm smile on his face. But in truth, Shirou is driven by a personal desire to fulfill his sense of self-worth by being a benefit to others. A survivor of a terrible event, deeply affected by the horrors he witnessed he feels his survival is earned only by following the example of his father Kiritsugu Emiya by acting as a "Hero of Justice''.
Shirou may come across as stubborn and even rash. But this is simply a sign of his determination and resolve to act in the name of what's right. He refuses to stand idle in the presents of wrongdoing even if he must put himself in the line of danger. If its for the good of others, Shirou will act.
Powers: Shirou is a magus, though not formally trained in the traditional manner Kiritsugu taught him how to use his magecraft abilities. He utilizes limited forms of Reinforcement and Projection magic which has developed sharply through his experiences which has taught him the technique of Tracing. Shirou is able to replicate the forms of weapons and armor he's encountered by analyzing and understanding its form allowing him to create an almost authentic replica with the strength to rival the original.
Bio: Shirou Emiya's life changed when a great fire burned the city of Fuyuki, his original life was forever lost and he instead received the gift of a new life. From the rubble of his home, a magus by the name of Kiritsugu Emiya rescued Shirou on that faithful day and gave him a new life as his adopted son. But in his youth, Kiritsugu passed away leaving Shirou alone with his older sister figure Taiga Fujimura to watch over him but Shirou matured quickly and began to fend for himself from an early age. On the night before his death, Kiritsugu told Shirou of his forgotten dream of becoming a hero of justice. Remembering the moment when Kiritsugu saved his life, Shirou became infatuated with the dream and decided to carry on his father's dream for him.
It was in pursuit of this dream that Shirou found himself involved in the Fifth Holy Grail War, the next conflict to receive the mysterious Holy Grail. After being nearly killed by the servant of the Lancer class, but he was rescued by Rin Tohsaka who healed him with a pendent. After recovering, Shirou found himself involved in the Holy Grail War when he summoned the Saber class servant, who he would come to learn was none other than the fabled King Arthur. Shocked by the terrible conflict that was being waged for the grail, Shirou agreed to assist Saber in her quest in order to bring peace back to Fuyuki.
They fought many powerful opponents. Shirou himself was forced to confront Rin Tohsaka's own servant, Archer who revealed himself to be another Shirou Emiya from a potential future. Archer warned Shirou of his path and attempted to kill him to save himself from his hellish fate. But in their clash of ideals Shirou prevailed and Archer gave up on his effort.
After this encounter Shirou learned the true nature of the Holy Grail when a participant of the last war, Gilgamesh, revealed his plans to use the grail to bring destruction to the world. Together with Saber, Rin and a returning Archer they managed to defeat Gilgamesh and destroy the Holy Grail once and for all.
After the war Shirou agreed to live a peaceful life and was preparing to journey to London to accompany Rin.
Source: Fate/Stay Night
Timeframe: Post-Unlimited Blade Works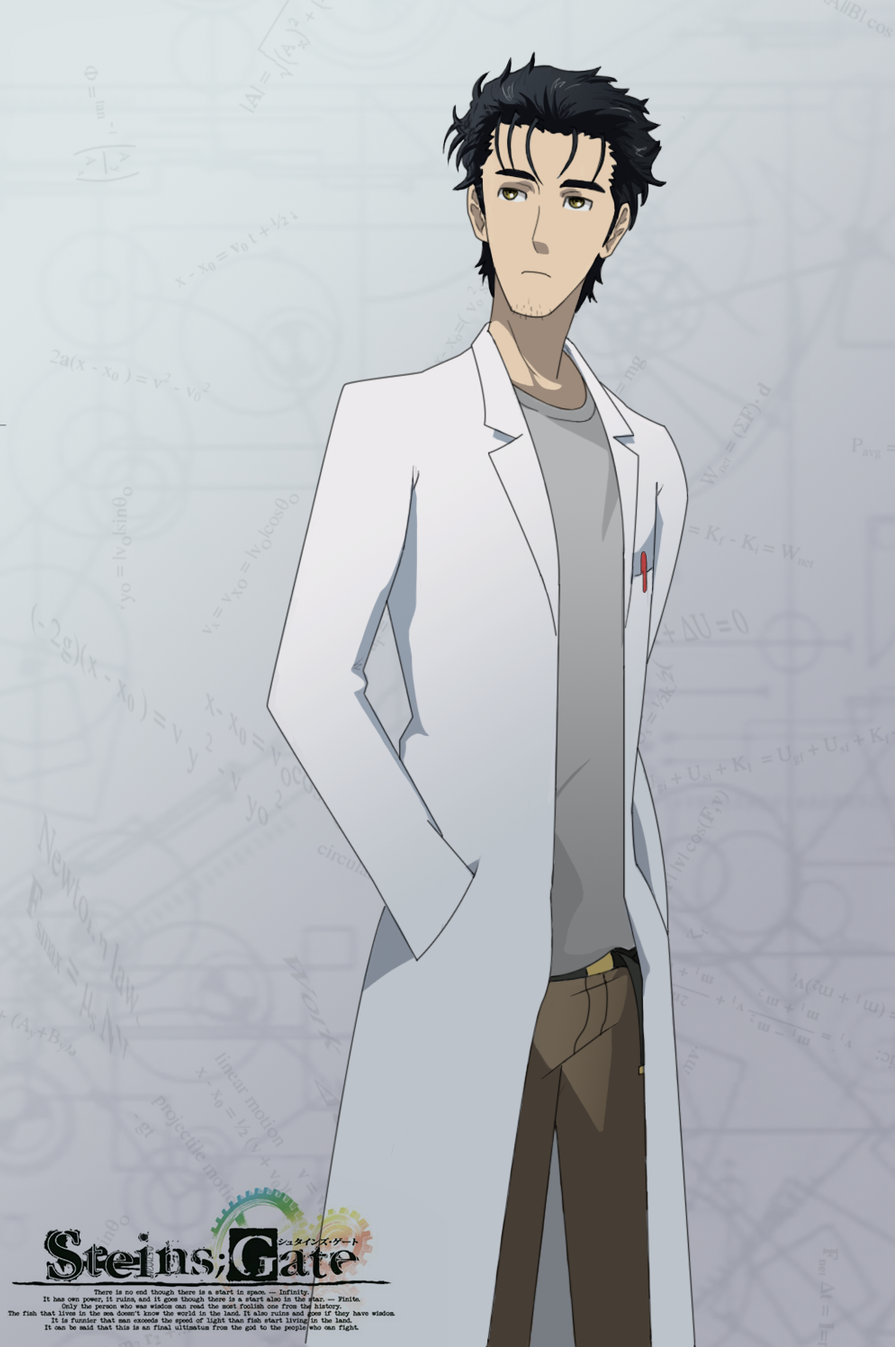 Name:Okabe Rintarou
Gender: Male
Personality: An eccentric self-proclaimed mad scientist, Okabe Rintarou can often be seen declaring himself by the name of "Hououin Kyouma" who speaks of his constant conflict with a mysterious organization that is his constant enemy. Though he seems to often be in another world with his larger than life declarations and melodramatic ramblings, Okabe is first and foremost quite intelligent despite his otaku antics. And above all else he is a kind spirit, while he may poke fun at others and give out strange titles and nicknames. Okabe is friendly towards most people and quite empathetic, when confronted by an earnest request there is little doubt that Okabe will do what he can.
Though he is still somewhat shaken by his experiences with Steins Gate. While normally upbeat, Okabe has his lows when driven to despair he can become quite downtrodden and even cynical. Though should he find a source of hope, his upbeat persona returns.
Powers: Okabe for the most part is normal human. He has no outstanding physical abilities and is in fact rather weak for the most part. But where his strength does exceed is his ingenious abilities in science and engineering. Okabe shows surprisingly in-depth knowledge of advanced sciences, mathematics and has some abilities in engineering though not entirely his specialty. When working in collaboration with other scientist, there are few things Okabe cannot achieve.
Bio:
http://steins-gate.wikia.com/wiki/Rintaro_Okabe
Source: Steins;Gate
Timeframe: Post-Steins;Gate: The Movie
Name: Toboe
Gender: Male
Personality: Toboe is a kind and empathetic individual. Because of his youth, he's energetic and curious about most things he comes across and at times is unaware of his own strength and somewhat ignorant of social cues. Despite being a wolf, he was raised by a human woman and is not as uncomfortable around them as some wolves tend to be. Still Toboe is rather timid by nature, while he is by no means a coward it can take some time for others to get closer to them. But once a bond is formed Toboe is a faithful companion and will do what he can do help.
Powers: Toboe is in actuality a Red Wolf, in his world Wolves are supernatural beings that possess superhuman abilities. Wolves possess immense strength and speed, easily able to overpower most humans with ease. Perhaps most mysterious of a wolves' abilities is their capability to create the illusion of a human form, while still physically a wolf to the unprepared human Toboe will come across as a normal young boy and only certain exceptions, injury or his own will can break the illusion.
Bio: As a young puppy, Toboe was raised by an elderly woman who he knew simply as 'Granny' who cared for him as a pet. One day after making dinner, Toboe grew too excited and jumped atop Granny accidentally crushing her. From that moment he was alone roaming the world without a pack or family to care for and eventually ended up within Freeze City. It was there that Toboe encountered Tsume, Kiba and Huge three strangers who were brought together by circumstance. Discovered by a wolf hunter, the four wolves ended up escaping the city together to join Kiba on his quest to find Paradise, a journey undertaken by countless wolves in their quest to find purpose in a dying world.
It was during their travels that the four wolves encountered Cheza, a girl born from the Lunar Flower that was fabled to guide the wolves to paradise. But their journey was interrupted by trials and peril, enemies who sought to seek out and take the paradise of the wolves for themselves. The journey was hard and even Toboe for a time considered abandoning the persuit when he came across a peaceful village where everyone lived in peace.
But unable to abandon his friends, Toboe continued to follow the path to paradise and came into conflict with a witch named Jagura who nearly succeeded in opening the door to paradise. But Jagura's paradise was false and her mission failed sealing the doom of the dying world. Together with the last remaining life on Earth, Toboe followed Cheza toward paradise. But on the verge of reaching paradise, they were set upon by Lord Darcia who once again wanted to take paradise for his own and while attempting to protect the old wolf hunter, Toboe was shot and killed.
As the snow began to overtake his body. Toboe dreamed of running in a green field with his Granny...
Source: Wolf's Rain
Timeframe: Post Wolf's Rain Episode 29

Name: Mayuri Shiina
Gender: Female
Personality: Mayuri is an upbeat person by nature, somewhat childish and naive she always seems to have an unwavering smile on her face. She has a certain fondness for cute things and loves to collect things that catch her eye, making cosplay and assigned cute nicknames to her friends. While not as intelligent as her fellow future gadget lab members, she supports the others in her own way by helping keep emotions up and making sure everyone takes care of themselves. She's also very attentive and notices even the smallest of details that others might miss. This is also part of her empathetic nature, which lets her notice when others are in emotional trouble.
Powers: Mayuri has no powers whatsoever. She's a regular teenage girl, but she does have some technical skills like sewing and is a talented cook.
Bio:
http://steins-gate.wikia.com/wiki/Mayuri_Shiina
Source: Steins;Gate
Timeframe: Post-Steins:Gate movie
_________________
"
Vive la France!
"
Name: Kiritsugu Emiya
Gender: Male
Personality: A man intrinsically at odds with himself, Kiritsugu Emiya was a man who wished more then anything else to be a Hero of Justice. Someone who would protect the weak who could not protect themselves, yet the only way he could see that was to save the many by sacrificing the few. However this mentality and his life would bring him to great despair that he thought he could never fix. This depressed outlook made him seem cold to many however in all actuality he was the one who was feeling the most.
While Kiritsugu may seem cold, detached, emotionless, and brutal he does this because it is the only way he can persevere and move forward. In actuality Kiritsugu is a man who feels for many and has loved many and it is this that pushes him too despair. If his guard were to be lowered Kiritsugu's true personality quickly shows itself but it takes a lot to work through it.
Powers: Kiritsugu is a highly trained assassin and has honed his body and mind to be a perfect killer. He's adept at martial arts and the usage of weapons such as guns and knives. Beyond this, Kiritsugu also possesses the crest of the Emiya family that grants him Innate Time Alter which he can use to speed up or slow down time as he so desires, however it puts an immense amount of stress and pressure on his body. Kiritsugu also has anti-magic bullets known as Origin Rounds however in this setting they're not of much use beyond regular bullets.
Bio: Born to Norikata Emiya, Kiritsugu spent his early life being moved around from place to place not knowing why, it was during these early days of his life that him and his father ended up on Alimango Island in the Philippines where Kiritsugu felt isolated with the exception of his father's research assistant Shirley. Kiritsugu grew very close to her until the day that the truth about his father's experiments came to light when he stumbled across Shirley, vampirized after using Norikata's research on herself, begging to be killed. Kiritsugu, unable to kill someone he cared so much about, ran to the priest of the island only to see him killed by the spread of vampires that had begun because of Shirley.
It was here that during his attempts to survive the plague overtaking the island that he was saved by a mercenary hired by the Magus Association, Natalia Kaminski. After Natalia told Kiritsugu the truth about what had happened to Shirley and that his father was the cause, Kiritsugu steeled himself and returned to his and his father's home. Coming across his father burning the notes to his research and preparing to run away once more, Kiritsugu pulled out his father's handgun from the drawer and shot him dead. It was after this that Natalia, having followed him, told him he could come with her and he accepted.
In the ensuing years after this, Kiritsugu was taught by Natalia how to be an assassin, it was during this time that he was given the Emiya family crest as well. However during this time is when Kiritsugu began to see the truth of the world in an even harsher manner. Killing many and seeing many innocents die, but despite this he was content with Natalia by his side. However during one mission to kill a Dead Apostle that had boarded a plane from France to NY, everything went horribly wrong. The Dead Apostle had used his familiars to kill and control everyone on the plane, turning them into zombies. Faced with either letting Natalia land and cause the deaths of millions if not more, or just having one life lost, Kiritsugu chose the needs of the many over the needs of the few and despaired.
After this time, Kiritsugu took jobs for the Mage Association and became known as the Magus Killer for his proficiency in being able to kill mages and also found a partner to assist him, Maiya Hisau, who he had rescued from a war torn country. It shortly after this that Kiritsugu learned of the Holy Grail War and the magical wish granting device at the center of it. Realizing this was the key to being able to accomplish his dream, the Magus Killer took an offer from the Einzberns to win them the grail, however the assassin planned to backstab them and use the grail himself. It was during this period of his life that Kiritsugu met Irisviel von Einzbern, a Homunculus who would be the catalyst and center of the Lesser Grail. At first being displeased with having the added burden of protecting her, Jubstacheit von Einzbern the patriarch of the Einzberns cast Irisviel into the snowy wolf filled woods around the Einzbern Castle to show that the Homunculus could fend for herself if needed. Horrified by this, Kiritsugu ran into the snow and saved her. It was this that began their love for each other and led to the Einzberns to let them marry on one condition, if they failed to bring back the Holy Grail the daughter they would produce would be used as the holy grail for the next war.
Horrified by this and now having felt love once more, Kiritsugu was determined to win the Fourth Holy Grail War. It began 8 years after the birth of his and Irisviel's daughter, Illyasviel, and the servant Kiritsugu summoned in it was Arturia Pendragon of the Saber Class. From the beginning they both distrusted each other and had mixed feelings on the other, despite Irisviel's attempts to smooth it over. To prepare himself mentally, Kiritsugu separated himself from Irisviel and had begun to cheat on her with Maiya in an attempt to soothe his guilty conscience, however it didn't work. Shortly before the Fourth War the Master of Assassin, Kirei Kotomine, had caught his attention in a negative way. Something about the man frightened Kiritsugu and Kiritsugu spent much of his time in the early war keeping an eye on the man.
However after Saber fought Lancer and sustained an injury from the servant from his noble phantasm that couldn't be healed until he died, Kiritsugu changed targets and began to focus on Lancer's Master, Kayneth Archibald, even blowing up his base of operations which was a hotel, though Kiritsugu had evacuated it before hand and had bet on Kayneth being too arrogant to evacuate and had guessed correctly, however Kayneth and his servant survived through the use of Kayneth's own magical abilities. It is after this that Kayneth visited Kiritsugu's own base of operations during the middle of a ceasefire to hunt down Caster and attempted to initiate a magical duel, it was during this that Kiritsugu won the fight by using his Origin Bullets, destroying Kayneth's magic circuits.
After this fight, Kiritsugu began to feel doubts about his own purpose in the war, confiding in Irisviel that if she were to ask him to run away from it all and to go back to the Einzbern's castle to save Illya and then run away with her. However Irisviel declines telling him that she knows he would never forgive himself for it. It is after this that Kiritsugu moves their base of operations to a small house he owned in Japan, however knowing that Irisviel was close to death, the magus killer began to distance himself, isolating himself and communicating with Irisviel and Saber through Maiya as an intermediary.
It was after this that Caster made his final move and summoned a huge Monster into Fuyuki's bay, Kiritsugu responded and was able to take out Caster's master however he knew for it to be destroyed entirely Saber would need to use her Noble Phantasm, something she was unable to do with the injury Lancer had given her. Eager to see if Lancer would choose the greater good over personal pride, Kiritsugu looked on as Lancer sacrificed his Noble Phantasm for Arturia to be able to use Excalibur. After this, Kiritsugu ordered Sola-Ui ((Kayneth's wife)) to be abducted and used as bait to lure Diarmuid (Lancer) and Kayneth to a desolate location. It worked and while Arturia and Diarmuid fought, Kiritsugu convinced Kayneth to sign a Self Geass Scroll that would force him to use a command seal to have Diarmuid kill himself, while in return Kiritsugu wouldn't harm him or Sola. However it was a trap, and after Diarmuid killed himself Maiya shot Sola and Kayneth with Kayneth gasping for air begging Kiritsugu to kill him while he calmly stated he couldn't.
It was after this that Kiritsugu and Saber had a full falling out resulting in the two splitting for most of the rest of the war. It was after this that Kiritsugu attempted to track down the other masters and found out that Tokiomi Tohsaka, the master of Archer, had been killed by his own student, Kirei Kotomine. It was shortly after this discovery that he visited Irisviel at their base where they had one final talk and she gave Avalon, the holy scabbard of King Arthur, back to him. Shortly after this, Irisviel was kidnapped by the joint team of Berserker's Master and Kirei and in the process Maiya was killed. Kiritsugu would continue to try to find Irisviel to no avail, and she was killed by Kirei and became the grail. Realizing the war was at it's end, Kiritsugu arrived at the location where Irisviel was to turn into the Lesser Grail and was met with resistance from Kirei Kotomine where the two fought, however they were interrupted by the ceiling breaking above them and both being absorbed into a mysterious black substance. It was within this substance's world that Kiritsugu learned the truth. The Grail had been corrupted by an evil entity that sought to use the wish that the master would ask for to escape it's confines. Kiritsugu, despite the temptation provided, resisted and killed what remained of Irisviel's spirit that had since been corrupted and a fake illusion of Illya and returned to the real world where he shot Kirei Kotomine in the head and then proceeded to where Saber and Archer were fighting. Using his final two command seals, Kiritsugu ordered Saber to destroy the grail, ignoring her screams for him to stop.
Expecting it to be over, Kiritsugu looked up to the sky and gasped in horror as he saw a hole opened up in the sky and spilled forth Grail Mud all across Fuyuki, destroying all in it's path. Horrified and broken by what his decision had done, Kiritsugu despaired and desperately searched through the flaming wreckage to find someone, anyone, who had survived. It was there that he found a little boy close to death. In order to save him, Kiritsugu gave him Avalon and after seeing that it had worked Kiritsugu Emiya cried and shouted "He's alive! He's alive!" and thanked him.
After this Kiritsugu adopted the boy who he named Shirou and raised him himself with the help of the granddaughter of an associate's of his and during this time also tried to save Illya, however Kiritsugu had been cursed by the being that resided in the Grail and was slowly dying and losing the use of his Magic Circuits leaving him unable to break the bounded field around the Castle. It was shortly after one of these attempts that Kiritsugu sat down with Shirou and had one final talk where he related what his dream had always been. To be a Hero of Justice. Hearing this, Shirou proclaimed he'd become one for him if he couldn't anymore. Smiling and realizing his dream was in good hands, Kiritsugu let himself drift off to sleep peacefully and passed away.
Source: Fate/Stay Night & Fate/Zero
Timeframe: Post-Fate/Zero ((After his death))
Name: Rin Tohsaka
Gender: Female
Personality: To sum Rin up simply is that she's very much someone who is determined to accomplish what she puts her mind to. No matter what Rin will do her utmost best to accomplish her goals, even at times appearing ruthless. This attitude has led her to great success academically of which Rin is a star student. However this has also led Rin to unintentionally isolate herself by setting herself apart from others. This has led Rin to feel a sense of loneliness as a result of having no one on her level until her and Shirou became close friends.
Rin also has a sarcastic playful side that she only really shows around those she trusts and likes a lot, though she won't push her jokes if she notices it's bothering the person. It's this aspect of her that she also shows on occasion, the kind, caring, and empathetic side that she's tried to hide to no avail. At her core Rin is a very kind and caring person above all else.
Powers: Rin's ability in magecraft is very high because of her aspect being able to manipulate all Five Elements. However Rin specializes in Gem Magecraft and mainly uses multiple forms of it such as making them explode. Rin also knows a Finnish spell known as Gandr that is a black orb that is fired from her finger that is powerful enough to destroy objects. Rin is also proficient in Reinforcement Magic, letting her leap far distances and also punch harder then normal which is accentuated by her knowledge and training in Bajiquan.
Bio: Born to Tokiomi Tohsaka and Aoi Tohsaka, Rin was the oldest of two daughters with the younger daughter being named Sakura. For a time the family was happy, however after the strength of both Tohsaka sisters was found out Tokiomi knew he wouldn't be able to protect both from the Mage Association, due to this he sent Sakura away to be raised by the Matou family. Heart broken by this, Rin gave Sakura a ribbon to remember her by.
A few years after Sakura was given away, the Fourth Holy Grail War began and Rin and her mother were sent away but not before Rin made the acquaintance of Tokiomi's new pupil, Kirei. The two quickly grew to dislike each other but didn't have much time to interact before Rin and Aoi left for the outskirts of Fuyuki. It was not longer after this that children began to disappear from Fuyuki including Rin's best friend Kotone. Determined to find and save her, Rin snuck out at night and stumbled across the culprits of the child abductions. Caster's Master, Ryuunosuke. Using her rudimentary magical abilities, Rin saved her friend and the other children before being attacked by one of Caster's monsters, only to be saved by Berserker, commanded by a friend of Rin's mother Aoi.
After this incident towards the end of the war, Rin was visited by her father one last time before his death where he patted her on the head and gave her a book and advice on magecraft. Rin would cherish this memory forever yet sadly by the time the war concluded her father was dead and her mother had suffered grave brain damage that would soon cause her to pass away. After both of her parents passed on, she was raised by Kirei Kotomine however he kept his distance.
Ten years later, Rin Tohsaka became a Master in the Fifth Holy Grail War and summoned a servant of the Archer Class. Not long after this while investigating a suspicious vigil, Rin and Archer were attacked by Lancer. However during the fight they were spotted by a boy named Shirou Emiya, a boy Rin had been secretly harboring a crush on. Finding him bleeding and near-death, Rin decided to heal him with a pendant she had stored up a tremendous amount of magical energy in. After having left before Shirou could wake up, Rin made a realization that Lancer would merely go after him again and quickly hurried to Shirou's house, it was here that she first saw Shirou's servant, Saber, and was nearly killed by her with Archer until Shirou used a command seal inadvertently to stop it.
Deciding to help Shirou now that he was dragged into the war, Rin brought him and Saber to Kirei's Church as he was now the overseer of the war. After having the Grail War explained to him, Rin and Shirou proceeded to return home where they were confronted by Illyasviel von Einzbern and her servant Berserker. Having no other choice, Saber and Archer both fought the giant of a servant while Rin confronted and fought Illya on her own. While their fight wound down, Saber and Berserker's fight intensified before being ended by a strong Noble Phantasm by Archer. Losing interest in the fight, Illya retreated just as Shirou passed out from wounds sustained from saving Saber from Archer's Noble Phantasm.
Helping Saber bring Shirou home, Rin tells Shirou this will be the last time she'll help him as the Grail War is a fight to the death, that same night Rin begins to track down Caster after confronting some of the servant's familiars at an office building where the employees were being drained of their life force. The next day Shirou continues to act normally, irritating Rin who decides to make good on her threat. However during their skirmish Shirou was able to clearly tell that Rin's heart wasn't in it. Their duel is interrupted by a scream where Rin and Shirou find themselves confronted by the servant whose master had left the mysterious vigils around the school, trying to suck the life force from a student. While the servant retreats, Rin decides to call a truce with Shirou and team up to defeat the servant before anyone else is harmed by them. After this they begin to search the school for candidates who could be the servant's master.
It wasn't long after this that Rin found out her servant, Archer, had attempted to kill Shirou behind her back during a fight with Caster and Assassin, because of this Rin used a command seal to prevent him from harming Shirou. During the same day Rin informed Shirou of this, the school was enveloped in Rider's noble phantasm, Bloodfort Andromeda, however it was disabled by Rider being killed before Rin and Shirou could stop her. After interrogating Rider's Master, Shinji Matou, Rin has a suspicion that it was Caster's Master who did so because of those same skeletons appearing during Rider's attempted use of her Noble Phantasm. Due to this, Rin and Shirou began to track down and find Caster's Master and succeeded shortly in confirming his identity as their teacher, Soichirou Kuzuki. During their attempted confrontation, both Rin and Shirou were defeated however Saber managed to force Kuzuki and Caster to retreat.
Due to this event, Rin decided to stay in Shirou's house until Caster and her master were defeated. The day after she moved into Shirou's home, Rin took him and Saber out into Fuyuki so Shirou could enjoy himself after Rin had observed that Shirou never did anything for himself. While on the way back, they were attacked by Caster in a sneak attack and in the ensuing conflict, Saber was stolen from Shirou by the usage of Caster's Noble Phantasm, Rule Breaker. With this blow, Shirou was taken out of the war and after healing him Rin told him to stay out of the war or he'd die.
After this, Rin and Archer tried to confront Caster and her Master however Archer betrayed Rin and asked to team up with Caster. Obliging his request, Caster used Rule Breaker on him and then ordered him to kill Rin. Before this could happen though, Shirou showed up and saved her and then retreated. After this Rin and Shirou confessed their feelings for one another and got together. Knowing they'd need an ally to confront Caster and Archer and also save Saber, to do this they attempted to ally with Illya and Berserker however before they could, a mysterious eighth servant attacked Illya and Berserker, succeeding in killing both but only after a tremendous struggle. Barely surviving the mysterious eighth servant, Rin and Shirou buried Illya's body and after seeing how Shirou was reacting, Rin confronted him about this and tried to shake him out of his evident PTSD. Realizing the flaw of how he considered himself, Shirou thanked Rin and shortly after they were confronted by Lancer who wanted to team up with them.
Accepting his offer, the three confronted Archer, Caster, and Kuzuki and were close to victory when Archer revealed his true motives and killed both Caster and Kuzuki while revealing himself to be Shirou from the future who desired to wipe out his past self. Something Rin had been suspecting before this. In order to have a way to bring Shirou to him, EMIYA kidnapped Rin and brought her to the now vacant Einzbern castle where Rin was tied to a chair. After being nearly assaulted by Shinji, she was saved by Lancer who while attempting to free her was confronted by Kirei Kotomine, the true master of Lancer and the mysterious eighth servant. Shortly after revealing himself, Kirei ordered Lancer to kill himself and then readied himself to kill Rin however because of one of Lancer's skills, the servant revived himself and killed Kirei and scared off Shinji. Lancer then freed Rin and told her to go confront Shirou as he died and set the Einzbern Castle aflame.
Seeing the tail end of Shirou's confrontation with EMIYA and EMIYA's seeming demise at the hands of the Eighth Servant they now knew to be Gilgamesh, Rin vowed to avenge her servant. Before Gilgamesh could attack Rin, Saber, and Shirou though, he retreated citing the smoke as an irritant. Retreating back to Shirou's house and knowing they'd need immense power to defeat Gilgamesh, Rin transferred half of her Family Crest to Shirou, giving him the power boost necessary. However during this time, Gilgamesh had turned Shinji into the Lesser Grail with the heart of Illya that he had ripped out prior. Realizing they'd have to shut down the Grail as well, Rin and Saber took on the Grail while Shirou fought Gilgamesh. Rin succeeded in ripping Shinji out of the grail and then had Saber destroy it with Excalibur. During this rescue though, Rin was helped by EMIYA and realizing what it meant, Rin ran to where she could sense his presence. As he was fading away, EMIYA thanked Rin and told her to look after Shirou and prevent him from becoming what he had.
Shortly after this, Rin and Shirou prepared to go to London to attend the magical academy known as the Clock Tower together.
Source: Fate/Stay Night, Fate/Zero
Timeframe: Between Fate/Stay Night: Unlimited Blade Works Episode 24 (25) and 25 (26)
Name: Kurisu Makise
Gender: Female
Personality: Kurisu is someone who is very outwardly assured and confident in herself, never seeming to show doubt about her points or position on matters. Below this however is someone who is very unsure of herself and has doubts about if she's doing the right thing however she doesn't like to show this vulnerability, covering it up with snide comebacks and sarcasm and occasional flustered yelling however this isn't common.
Kurisu is also very much a caring person who is very concerned about her friends thoughts and emotional well being. She is also kind in general, always being willing to help and care for people who she's only just met. Kurisu is also a bit of a private geek being very into sites like 2ch in her private time.
Powers: While Kurisu does not have what would be considered "powers", she is very intelligent and was considered a genius by the age of 18 in her field. She is also very good at mathematical equations related to physics specifically and is also good at basic engineering.
Bio: The daughter of famed scientist Shouichi Makise, Kurisu was born gifted and enjoyed talking with her father about various scientific subjects, however as time went on her father began to grow more and more resentful of her and this would in part lead to her parents' divorce. Sometime after this, Kurisu and her mother went to America where she studied and became known as a genius even getting papers published in scientific magazines.
While in Japan to deliver a lecture, Kurisu attempted to show her father her time travel theories however this one last insult in her father's mind drove him over the edge, leading to his attempt to kill her. However she was saved by a mysterious man who then knocked her out. When she came to she tried to find this man and ultimately succeeded. It was after this that she became friends with the man, Rintarou Okabe, and his Lab Members.
After this, Kurisu was at sometime told by Okabe about time travel experiences he went through though she was initially skeptical of this, however as time went on she began to have deja vu-like feelings and dreams about experiences Okabe had mentioned leading to her to wonder if there was something more to this. Not too long after this began to happen, Kurisu invited Okabe and the Lab to America and while Feyris (one of the lab members) participated in a card game tournament, Okabe and Kurisu bonded more ultimately culminating in a kiss while stranded on a deserted highway.
A year after this Kurisu came to Japan for a press conference and met up with Okabe and the lab while she was there. However during this time, Okabe began to disappear because of his prior time travelling and Kurisu worked with a time travelling Suzuha to save him. After a few failures and moments of despair, Kurisu travelled back in time one more time and succeeded in grounding Okabe to the Steins;Gate timeline by giving him his first kiss. It was after this that Kurisu and Okabe officially got together.
Source: Steins;Gate
Timeframe: Post-Steins;Gate: The Movie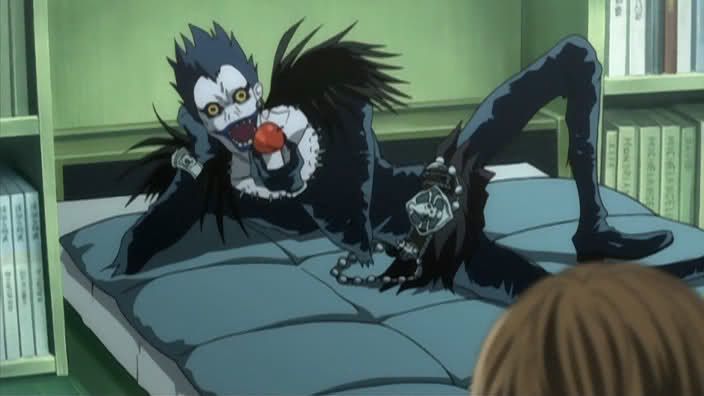 Name: Ryuk
Gender: Male
Personality: The easiest way to sum up Ryuk would be chaotic. Concerned with his own amusement and nothing else, Ryuk does what he thinks will appease his boredom rather then follow the rules. When Ryuk is bored he tends to act up and talk a lot to whoever is listening. This chaotic facade however covers up a much darker and more ruthless Ryuk that the Shinigami doesn't show frequently. Ryuk is also very much someone who covers up the truth and while he'll give hints towards what's correct, he won't give it up easily. Ryuk is also very fond of apples and video games beyond anything else.
Powers: Ryuk can not be seen unless someone is holding the Death Note. Beyond this though, Ryuk can not be killed unless he is not in possession of a Death Note for an extended period of time.
Bio: Bored of the Shinigami World and the usual job of Shinigamis, Ryuk dropped a Death Note in the human world to see what would happen where it was picked up by High School student, Light Yagami. After seeing how Light proceeded to use it, Ryuk decided that Light was interesting and revealed himself and explained the rules of the Death Note. After this, Ryuk kept watching how Light would proceed with it with great interest and amusement.
Source: Death Note (Anime)
Timeframe: Post-Season 1 Episode 5
_________________
"
Vive la France!
"
Name: Shinji Rokubungi-Ikari
Gender: Male
Powers: Shinji is one of the few people capable of piloting a biomechanical being known as an Evangelion. Outside of this, Shinji has subtle amounts of psychic power from prolongued exposure to the Evas, and in extreme stress is capable of creating an AT Field, a barrier created from his very soul that can keep him protected from physical and psychic threats as long as his soul is strong enough to do it, and potentially warping reality around it. However he cannot control the use of this and has no idea that he's capable of using it. Burried in his hair are areas where A-1 clips connect so that he can empathically connect with the creature that the Evangelion actually is, it's unknown if they can be used to connect with any other beings though it seems as though he briefly connected with Touji Suzuhara telepathically.
Bio: Shinji Rokubungi-Ikari, or simply Shinji Ikari is the son of Gendo Rokubungi-Ikari and Yui Ikari, a head of operations and lead scientist at the now former GEHRN Laboratories that specialized in biomechanics, primarily involving the terramorphing aliens known as Angels. After his mother was killed in an accident his father abandoned him and he went into the foster care of his school teacher. Ten years later his father would call him to Tokyo-3 a fortress city designed to repel attacks from cosmic beings called Angels. He would be then blackmailed by his father into piloting a biomechanical mech known as an Evangelion to fight off the angels and prevent the apocalypse.
There he would meet his fellow pilots Rei Ayanami (=Ikari), Asuka Sorhyu, and later Kaworu Nagasia. As well as making friends at the local public school (that was later revealed to be there as a metaphorical manufacturing plant for pilots). As his father's darker purpose became clearer to him, Shinji started to slowly lose more friends and be put through a lot of pressure, watching Rei be killed and then replaced with a clone, Asuka going into a coma and later being brutally killed and mutilated before his eyes, and being forced to kill Kaworu upon learning that he was an angel, leaving Shinji a broken shell waiting to die.
Soon through unfortunate circumstances, the fate of the world was put on his lap where he was given a choice, and an altered mind state ushered the end of the world, destroying the physical forms of all life on Earth and bringing them into an eternal paradise as one being However, SHinji found this paradise distasteful and false, so he rejected it, giving all life the chance to return to life as long as they had the will to live. Learning that despite his failings as long as he's alive, he has a chance to become a better person. He finds himself ashore a sea of red, still in shock he tries to strangle a newly formed of Asuka, before she brushes her hand against her cheek, and he stops, breaking down into tears.
Source: Neon Genesis Evangelion
Timeframe: Post-End of Evangelion
Name: Tetsuo Shima
Gender: Male
Powers: Tetsuo has a wide array of psychic powers of which not even he knows the full extent of, they're ever evolving and changing. Some even capable of warping reality, opening up time rifts and creating craters in the moon.
Bio: Tetsuo was an orphan that was brought up in Neo Tokyo and fell in with a biker gang called the Capsule Gang. He would follow the lead of his friend, Kaneda until one day he got into an accident and as a result from an analysis test was discovered to have latent psychic abilities which they brought out with a machine. He escaped the facility and roamed the streets, gathering a rival biker gang known as the Jokers and waging a war on his former friend's gang as well as the other gangs in order to feed his growing drug addiction before being found by Colonel Shikishima and recruited into his psychic project.
Tetsuo would go onto betray them and try to awaken an old project case known as Akira, in doing so, ushers in a cataclysm over Neo Tokyo. Taking advantage of the cataclysm he creates a cult to Akira that he secretly runs and declares Neo-Tokyo to be the new Great Tokyo Empire. Finding that his drug addiction could no longer be satisfied by the pills created to promote his psychic powers he went to Lady Miyako to learn how to overcome the headaches. She told them that they were a result of the drug and that they no longer worked at promoting his powers, but suppressing them. If he wanted to truly unleash his potential he would need to cut himself entirely off of the drugs.
He goes cold turkey, causing a massive withdrawl which warps reality, ripping a hole in space and time.
Source: Akira (Manga)
Timeframe: Volume 4 end of, beginning of Volume 5

Name: Itaru "Daru" Hashida
Gender: Male
Personality: While Daru seems to respond to Okabe's enthusiasm towards their inventions with utter snark, he is just as into the creation of new inventions and the vision of Future Gadget Labs as he is. The only difference is that Daru wishes to apply their talents towards patenting their inventions. He's obsessed with anything to do with computers, anime and visual novels. He finds innuendos in words and can be a bit perverted though he seems completely not okay with anything non consensual.
Powers: Daru is an intelligent programmer and mechanic, his main interest is in computers and usually helps to bring the designs of Okabe and Kurisu to fruition. He's clever in the way that he works, and was capable of hacking into a United Nations organization. He's capable of creating backwards compatibility with an IBN 5100 and a normal computer as well as aiding his two colleagues in creating the Phonewave Real name TBA.
Bio:
http://steins-gate.wikia.com/wiki/Itaru_Hashida
Source: Steins;Gate
Timeframe: Post-Steins:Gate movie
_________________
"
Vive la France!
"
Name: Light Yagami
Gender: Male
Personality: Light has a fairly peculiar world view from a young age he's always been gifted, somewhat of a genius even. But he's also unusually naive, even for someone his age. His ideas on morality are highly fixed and not very realistic. He also can often fall into paranoia and he tends to be distrustful of the people around him.
Powers: Light Is an extremely academically gifted young man, he also excels in sports and general athletics. However Light also has the power of the Death Note a strange note book that can be used to kill anyone who's name and face the wielder knows.
Bio: Light Yagami used to live a perfectly normal life. His parents were in a stable and loving relationship, even despite his father's long work hours as a detective in the NPA. He had a younger sister who always looked up to him, he was popular amongst his classmates and his grades were always exceptional.
It was all dreadfully boring. But one day while he was sitting in class, a notebook... fell from the sky.
The human whose name is written in this note shall die.
This note will not take effect unless the writer has the person's face in their mind when writing their name. Therefore, people sharing the same name will not be affected.
If the cause of death is written within the next 40 seconds of writing the person's name, it will happen.
If the cause of death is not specified, the person will simply die of a heart attack.
After writing the cause of death, details of the death should be written in the next 6 minutes and 40 seconds.
It was unbelievable, there was no way someone could be killed just by having their name written in a notebook. But he had to try it. Not on just anyone of course, normal people don't deserve to die.
But there are some people that the world would be unquestionably better off without. Those vile, evil criminals who are nothing but a stain on society. If those people started to die people would probably be, thankful for it.
Source: Death Note (Anime)
Timeframe: Post season 1 episode 5.
Name: Kumonosuke Sakagami
Gender: Male
Personality: Kumo is a very quiet and reserved person, but because of his relatively intimidating appearance this often leads to people misunderstanding his intentions. He can be hot headed at times but he usually has his friends best interests in mind.
Powers: While lacking in what one would typically consider powers. Kumo does have impressive dancing abilities specializing in break dance and he knows how to cook.
Bio: Kumo started dancing at a young age, eventually starting a dance crew called Tribal Soul with his friends Mizuki and Yuzuru. They all shared a passion for dancing and a love for international dancing superstar Jey El. During one of their shows they got in a dance battle vs Haneru and Kanon two kids who had just recently started dancing together. Kanon and Haneru joined Tribal Soul and they became Tribe Cool Crew.
As Tribe Cool Crew Kumo and his friends were able to enter a dance competition held by Jey El himself the winners of which would become Jey's backup dancers. They met a lot of formidable dance crews along the way and even got involved an incident involving the dangerous dance style Crowd High. But by sticking together Tribe Cool Crew was able to win the competition.
_________________
"
Vive la France!
"
Name:
Seras Victoria
Gender:
Female
Personality:
While a younger Seras was a bit skittish and shy, Seras has grown into a far more confident and coy person. She hasn't lost any bit of her fun loving personality in her first 30 years of immortality and instead seems to have become a bit of a troll. While Alucard seems to have very little morals, Seras has a lot more and is far more approachable.
Powers:
Seras as the "daughter" of Alucard inherits many of his powers, and seems to not suffer the Cromwell Invocation's Restrictions as he does. She is able to summon the souls of those she's drank the blood from through her arm that is made out of shadows, this shadowy arm takes many shapes, though it appears as a normal hand when she is not in combat, it is capable of turning into wings, grappling massive items, or slicing through even solid steel. She can create barriers over entire areas with her shadows making a seemingly guardless area into an impenetrable fortress this shadow can even protect people, the shadow attacking them if they even as much as touch a wall or person. She can shapeshift, can see things kilometers away and hit them with pinpoint accuracy and has many of the typical vampire powers such as hypnotism, turning into mist, supernatural speed, strength and reflexes, regeneration, and immunity to weapons that haven't been blessed. Seras, like Alucard can also go from battlefield to battlefield and absorb the souls of those that have died around her and their blood, though she loaths using this ability and has only used it once. There are currently over 1980 souls inside Seras, though the most important one is Captain Pip Bernadotte. She is also immune to the effects of sunlight though she does not like being in it.
Bio:
Seras Victoria was the daughter of a police officer and a lawyer, who after investigating a local member of the mob, were both murdered, Seras witnessing the death and desecration of her parents corpses became a violent child that was constantly injuring other children around her in the orphanage. At some point she calmed down and eventually became a police officer in her father's footsteps in spite of the dissuasion from the people around her. Her life came to a halt when she and a squad of fellow officers came to Cheddar Village to investigate multiple homicides that were committed by a vampire posing as a priest.
She was the lone survivor and a hostage when the vampire Alucard came to kill the vampire, without hesitation Alucard took a shot that killed the vampire and mortally wounded Seras. Alucard gave Seras a chance to either die the way she was, or to continue on living. Choosing to continue living, Alucard turned her into his spawn. Afterwards she was inducted into the Hellsing Organization, a paramilitary group that served the British Crown in eradicating monsters from the world.
She eventually became involved in a secret war against the Nazi organization known as Millenium who were creating an army of vampires to wreak havoc in Europe. She met Captain Pip Benadotte and the Flying Geese, a group of mercenaries that were employed after Millenium killed most of the staff at the Hellsing manor.
During the battle for London, a vampire named Lieutenant Zorin attacked the Hellsing Manor, killing most of the Flying Geese, Benadotte, and cut off one of Seras' arms and her eyes. Seras drank the blood of Bernadotte, absorbing his soul and becoming a full fledged vampire, her arm becoming a mass of shadows, and one of her eyes regenerating. She then fought Zorin, killing her before finding Integra and rejoining the battle.
After Alucard's "death", she and Integra moved to finish off the Major, locking herself in a duel with a werewolf where she worked with the soul of Bernadotte to defeat the Major's prized asset. After the Major was killed, she then became the new trump card of the Hellsing organization while her progenitor was away.
Source:
Hellsing
Timeframe:
Chapter 95/Epilogue



Posts

: 47


Join date

: 2018-07-24


Age

: 26


Location

: Cleveland, Ohio



Name: Alucard (Vlad III)
Gender: Male
Personality: Alucard exudes an almost addicting level of self confidence. Whether he truly feels it or not he has the air of someone who always knows exactly what they're doing. But despite that anyone who's spent any notable amount of time with him will find that he's at least somewhat mentally unhinged.
Powers: Alucard is one of if not the most famous vampire of all time and he has all of the abilities that would imply, in his prime he had taken a countless number of souls into his body. But that all changed after the battle of London. During that battle he was tricked into taking in the soul of a creature by the name of Schrodinger.
Because of the nature of Schrodinger's abilities Alucard's body was unable to hold itself together. He fell apart under the strain and seemingly disappeared. However after a time he was able to regain his physical form by killing off all but one of the souls he had stored inside of himself.
Thus his number of stored souls went from numbering in the thousands to being one singular soul. However Alucard now has free control of the powers that Schrodinger had. Like the cat of the same name he is everywhere and nowhere, both alive and dead. A destroyed yet immortal vampire.
Bio:
http://hellsing.wikia.com/wiki/Alucard
Source: Hellsing
Timeframe: Epilogue



Posts

: 157


Join date

: 2018-07-24


Age

: 20


Location

: Lizardo Ranger Headquarters





Similar topics
---
Permissions in this forum:
You
cannot
reply to topics in this forum